Shapurji Saklatvala was born in India in 1874, the son of a merchant. His maternal uncle founded what is today the Tata group – a multinational conglomerate. Saklatvala worked for the company for part of his career, and first moved to England to run the Manchester office. After moving to England, he married Sarah Marsh, who came from a Derbyshire family, and they went on to have five children.
His return in the 1921 Census lists his occupation as 'office manager', living with his wife and children; it appears they had a few visitors to their home, too.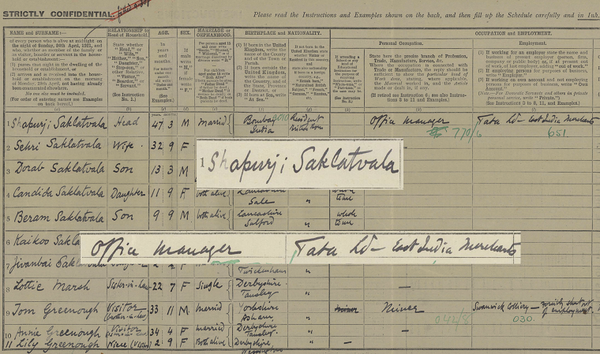 The 1921 Census
On 19 June 1921, close to 38 million individuals in England and Wales completed a census return. The details of those households are now available to search and view online for the first time. You can view the census online via Findmypast for a small fee. For free access, you can visit The National Archives or our two partner locations: Manchester Central Library and the National Library of Wales.
Find out more about the 1921 Census